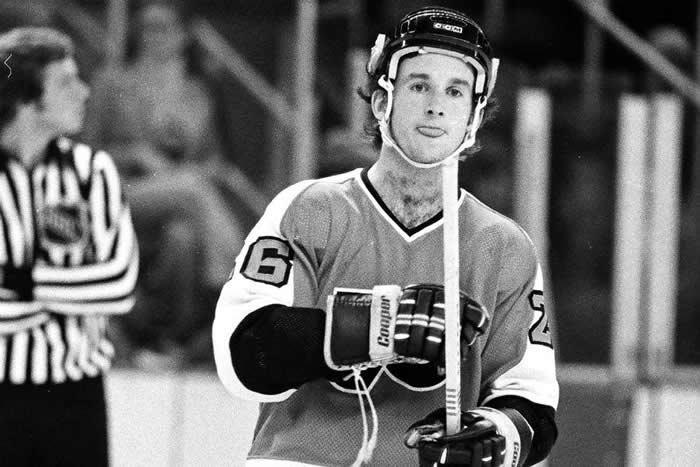 Forty years ago a 19-year-old kid named Ken Linseman thought he was old enough mature enough and good enough to play professional hockey. And by all accounts he was right. He led the World Hockey Association's Birmingham Bulls in points both in the regular season and the playoffs and picked up 126 penalty minutes along the way.
And in doing so he became the Curt Flood of the NHL draft opening up the process to 18-year-old players where previously only 20-year-olds could be drafted into the best league in the world. Linseman's route to pro hockey began when he took the NHL to court over the legality of its 20-year-old draft a lawsuit that was dropped when he got a restraining order against the WHA that prevented him from signing there. That restraining order opened the floodgates to underage talent going to the WHA including the greatest player of all-time in Wayne Gretzky and the NHL responded by lowering its draft age to 18.
"I just felt that if I was old enough to vote and old enough to go to war that I was old enough to play pro if someone wanted to pay me to play," said Linseman a Stanley Cup winner with the Edmonton Oilers in 1984 and now a successful businessman who spends much of his free time surfing.
But times have changed and there is no rival league to poach players. And what the NHL could not do 40 years ago it could almost certainly get away with now. That's why we're beginning to hear there is more and more of a groundswell around the possibility of raising the draft age from 18 to 19. There were broad hints that was in the league's plans when it introduced its "Declaration of Principles" over the summer and there's no reason to believe NHL teams wouldn't love to have another year to assess draft-eligible prospects. That of course would trickle down to the CHL which would keep its best 18-year-old players for another season along with the ripple effects that would be created right down to minor hockey.
But is it fair to tell an 18-year-old who is clearly good enough to play in the NHL that he's not permitted to? Well the answer is: it doesn't really matter. If the NHL does want to implement a 19-year-old draft it's going to get far more resistance from the NHL Players' Association than it is from the legal system. The reason for that is the non-statutory labor exemption that allows labor law to trump anti-trust law. So as long is there is a collective bargaining relationship which there is in the NHL then labor law wins the day.
There have been challenges to draft rules and plenty of precedent to suggest those challenges fail. In 2004 running back Maurice Clarett of Ohio State University challenged the NFL's rule that a player had to be three years removed from high school to be drafted. He won in federal court but the decision was later overturned in appeals court before the Supreme Court refused to review the case.
The league already controls the terms with which an entry-level player can negotiate by having a draft and also limits the salaries of players in the first three years of their deals. The NHLPA meanwhile has the latitude to bargain away the rights of people who are not even their members – since a player does not become a member of the NHLPA until he plays one regular season game. So it would not be a stretch to see the league move the age up to 19 provided it gets buy-in from the players. And it's important to note that entry requirements for professions outside of sports are fairly common and restrictive.
That is not to say that a modern-day Ken Linseman couldn't come out of the woodwork and challenge the age change. In fact Feldman points out that raising the draft age would increase the potential class of plaintiffs who might want to sue.
"It would be a severely uphill battle because of the case law," Feldman said. "You'd have to find the plaintiff to sue and the means to sue and then convince a court the law should change. But players generally don't want to rock the boat. It's a fairly daunting proposition to sue your soon-to-be employer. That might not be the way most people want to enter the league."
We Are The Cheapest Website For You To Buy HUT 18 Coins . So It Is Necessary To Purchase NHL 18 Coin From Our Website And Enjoy The Gameplay Experience. Many Players Know We Are The Professional Game Agent With 100% Secure Guarantee. As Long As You Buy NHL 18 Coins From Us You Will Always Be Enjoying The Lowest Price And Best Service Quality. We Provide The Cheaper NHL 18 Coins For Sale Full Stock With All Platform. Here You Can Enjoy Quick Delivery 7/24 Hours Online Help. So Do Not Be Hesitate To Purchase NHL 18 Coins From Us And Create Your Own Team. We Provide The Best Service Of NHL 18 Coins Of All Platform. Hereby You Can Buy NHL 18 Coins With The Lowest Price And Fast Delivery. Additionally You Can Choose The Auction Player Coins Gold Recharge And Coins Account Of NHL 18 Coins For Sale.