Crusader Kings 3 is experiencing a flurry of activity with a double update. First, there's the free 1.3 patch, which adds some goodies to the political strategy game. The map now has a winter mode where players can choose to duel enemies to the death or first blood. Lovers and lords can now also write randomly generated poetry to one another.
Among the many announcements made at Paradox Interactive's Insider event, they have unveiled a flavor pack for Crusader Kings III, called Northern Lords. This DLC is the first of many flavor packs planned to be added to the game over time. While not a full expansion's worth of content, Northern Lords will still be adding much to the base game.

As mentioned, the Northern Lords Flavor Pack adds a bit more local color and personality for those lording over a Scandinavian realm. Paradox doesn't do a particularly good job of indicating what the flavor pack adds within the game itself – I had to double-check Steam to make sure it was even installed. That said, once you pick a Norse leader and start a game, you'll start to see fresh content pretty quickly.
The package adds more detail and depth for those hailing from Norse nations and cultures: religion, raiding, internal disputes, and more. It's $7 on every platform that sells Crusader Kings III. If you own the expansion pack, it's part of that content. Paradox says these flavor packs are bigger than what you'd expect form just a pure cosmetic update but smaller than a major expansion, and they focus on specific cultures and regions.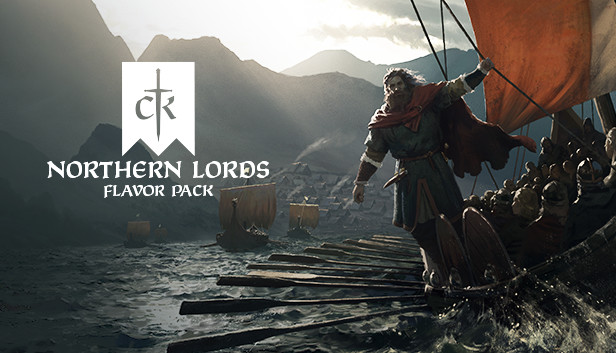 The meat-and-potatoes gameplay of Crusader Kings 3 hasn't changed, and the great gameplay flow remains the game. The update does make running through multiple generations of a family more interesting thanks to newly balanced dynasty rewards. A player can now choose to become a Norse lord, where they can abandon their home to raid other regions and establish an adventurer kingdom. There are two Norse dynasty tracks, one for adventuring, one for pillaging.
Northern Lords is also releasing alongside the free 1.3 "Corvus" patch, named in honor of Odin's Ravens. The patch will be adding winter weather, with snow building up in the northern parts of the world, adding new events and being a factor in battles. Rulers can engage in single combat duels with their rivals. Players can also make their rulers poets if they want, which is highly recommended as poetry is considered of great importance to the Norse. Some additional minor updates include multiple new coat of arms, religious symbols and music, all of which are Norse-themed.
While my enjoyed my time with these Northern Lords, I do question the DLC's $5 price tag (it's also included in the CK3's $35 Expansion Pass, which includes two flavor packs and a larger expansion). Yes, this DLC offers plenty of Viking flavor and fun events, but not a lot of truly new, game-changing content. This just feels like it ought to be a free update or perhaps part of its own subscription (I'd pay $20 a year for a new flavor pack every couple months). Of course, value is always somewhat subjective  — whether this voyage is worth the price is up to you.
Some people who never bought cheap Crusader Kings 3 Accounts from z2u.com probably may be not sure how safe it is to buy. z2u is the most trusted and reliable place to buy Cheap Crusader Kings 3 Accounts. We are providing you Cheap Price and Fast Delivery service. You can contact our customer service through Live chat to resolve any problems whenever you need.