NHL series have always been surprising people with its fantastic Game mode and amazing User Experience. Now, what else to it, we are going to see yet another update in the next year and we expect the same fun from this GM mode too in NHL 18. Now, talking about this latest module people have certain expectations from it and we are going to see how this features if actually integrated into the Game would do changes into it for good only.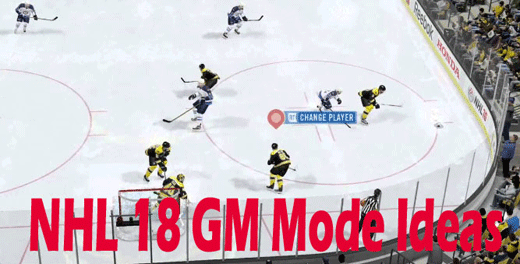 NHL 18 GM Mode Ideas:
For Franchise Mode, I want that we do not know the players of the other team and we have to make out a pre-scout and identify them on the basis of their ratings so that it takes a while for trading to actually happen. And to add more to it add custom class draft classes for overall players to make it even more difficult to differentiate between them and of course the free agency would work on deadline and counting down and that will let us know us on the Billboard which players are traded and signed in.
We can also have a Franchise Center with slow development traits to have them complement the potential to get a top 6 opposition players selected with a Red/ Green indication of risk or chances they achieve. We can also have the Game Play formulated on the basis of match-ups, changes in strategy, changes in the lineups, possible injuries, a rookie that's getting a chance, hot and cold streaks etc.
I really like the Idea of "Fog Of Wars" for ratings and a better way to have this idea implemented is for General overall that could raise and lower the Players based on the points on them. We can also have random players in Team's Farm system and minor players with vague number points and no specifics.
Another very important and needed feature that can be added is better interaction between NHL and other leagues so that we can have our players invited from European leagues too. Also International Coaching opportunities from World Juniors would do great to the Game and add a lot of potential fun to world Hockey. It would be great indeed to receive offers from other Nations too.
Yet another important feature would be to have more interaction and connection between the players like they being mad about their ice team and negotiating contracts between the mid- season and just making Free agency and trade deadline much more interesting than before. Some more features, can also be added to free agent time to see a player's value rise and fall depending importantly on their performance and age.
Player development skills also need to be looked at, younger players needs to be trained better with guys changing positions, training and practicing. But then everything should be fair and equal and so they get negative attributes if they do not play well, similarly older players should also start to fall off at a certain point. There can be a specific algorithm for this that take their current skills and moves attributes based on age, performance, injury history and current age.
Also Iginla type players will have to be used in a better way and smartly so that they would be able to dominate and carry play due to their durability, speed and skating slowing down and getting worse all credited to the better features implemented to their hands, vision and shooting to get their power play with open ice and set up in offensive zone. This would also force teams to get younger players up, and shift their teams around. We can also have "Ratings Fog" shifted so that we have utilized our scouts and players can play freely.
So guys share your ideas to improve GM mode in NHL game in comments below and stay connected for more updates…