The man from Cordoba who officially makes his NBA debut tonight with the Denver Nuggets also has his player in the world's most popular basketball simulator.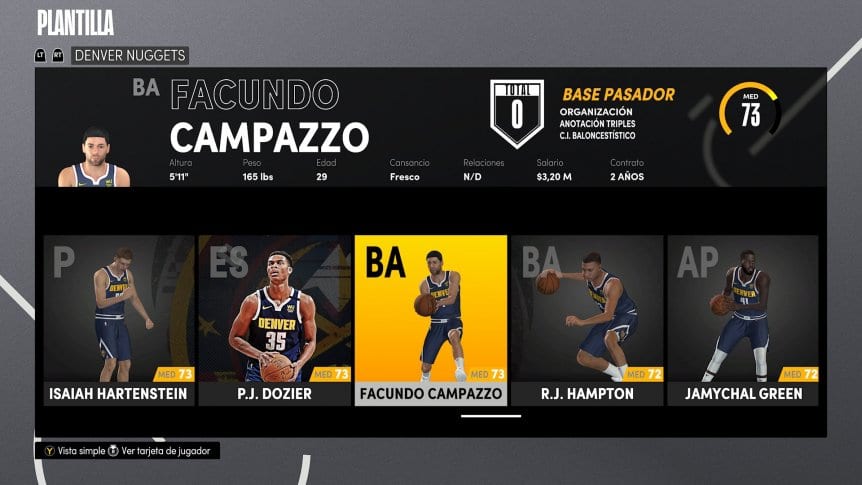 Facundo Campazzo generated a revolution since his arrival in Denver. Not only because he was fulfilling his dream of playing in the NBA according to him but also because of the appreciation of his own teammates who quickly dubbed him "Spider-Man" and who rave about him. As if all that were not enough while he waits to make his official debut in the season (tonight against the Sacramento Kings) a new fact occurred that will make everyone happy: his official inclusion in NBA 2K21.
"I'm ready and very happy to be here," Campazzo said in a video posted on the official accounts of the Nuggets during his visit to the Pepsi Center stadium. Also when entering the corridor towards the playing field the Argentine guard said: "Nervous!" (nervous).
"I am so happy to be here. It's a great team. I have a lot of great teammates," he said in his opening statement. The 29-year-old Argentine despite going undrafted in 2013 made his way to the NBA packing several solid seasons in Europe including a couple of Turkish Airlines EuroLeague championships as a member of the Madrid squad.
It was made to wait as 2K Sports waited until practically the start of the regular season. But finally Campazzo is already in NBA 2K21 as a point guard for the Denver Nuggets. Listed as a base passer the Cordovan has his strongest numbers in everything related to sleight of hand and his ability and intelligence to pass. Anyway Facu is not yet known in the NBA and this version of him in the video game may just be the beginning.
Facu is classified as a "Base passer" and his ability to organize play (A-) and his ability to hit triples (B) stand out. The controversy goes through his general average which is 73 points although it must be said that it is not very below that of his teammates and that it is more than acceptable taking into account that he is a "rookie". that is to say a debutant in the league.
The 29-year-old Argentine guard who repeated his desire to play in the NBA many times comes from Real Madrid Spain with whom he won two Euroleague and three ACB leagues.
"The Denver Nuggets have a great team. They played very well last year," he mentioned recalling the run to the Western Conference Finals "The playoffs they usually go there so that is very motivating for me and playing on a team like this one is very very awesome for me."
Facundo Campazzo's numbers in NBA 2K21:
Average: 73
Tray running: 72
Matte in static: 25
Mate in the race: 25
Close Shot: 64
Mid-range shot: 74
Shot of three: 76
Free kick: 83
Hook on post: 43
Suspension back on pot: 40
Post control: 35
Cause foul: 50
C.I. shooting: 90
Passing Accuracy: 82
Ball handling: 79
Ball Speed: 70
Hands: 81
C.I. pass: 86
Pass Vision: 86
Offensive consistency: 50
Inner Defense: 40
Outside defense: 70
Theft: 69
Plug: 45
Offensive rebound: 35
Defensive rebound: 45
Lateral speed: 73
C.I. defense aid: 65
Passing Perception: 76
Defensive constancy: 50
Speed: 72
Acceleration: 72
Strength: 49
Vertical: 58
Stamina: 80
Intangibles: 75
Intensity: 95
Potential: 73
Average Health: 80
If you need more help in NBA 2K21, be sure to check out our z2u guide, which is constantly updated and changed. In addition, the z2u can help you solve more problems, such as selling the cheapest NBA 2K21 MT, which can be used to buy player CARDS at the auction house and form your own dream team.